SOLUTIONS – AV ROOMS
Connectivity solutions for you AV integration project
Events and meeting rooms in public and private spaces would not be the same without an audiovisual integration that approaches the most innovative technologies in a holistic way, that respects the aesthetics of each space and that offers convenience to technicians. Whether at the time of designing or remodelling your space, Pinanson can even help you work out the possibilities for a future adaptation of the space.
SUCCESS STORY: CARLOS III UNIVERSITY (Campus Puerta de Toledo, MADRID)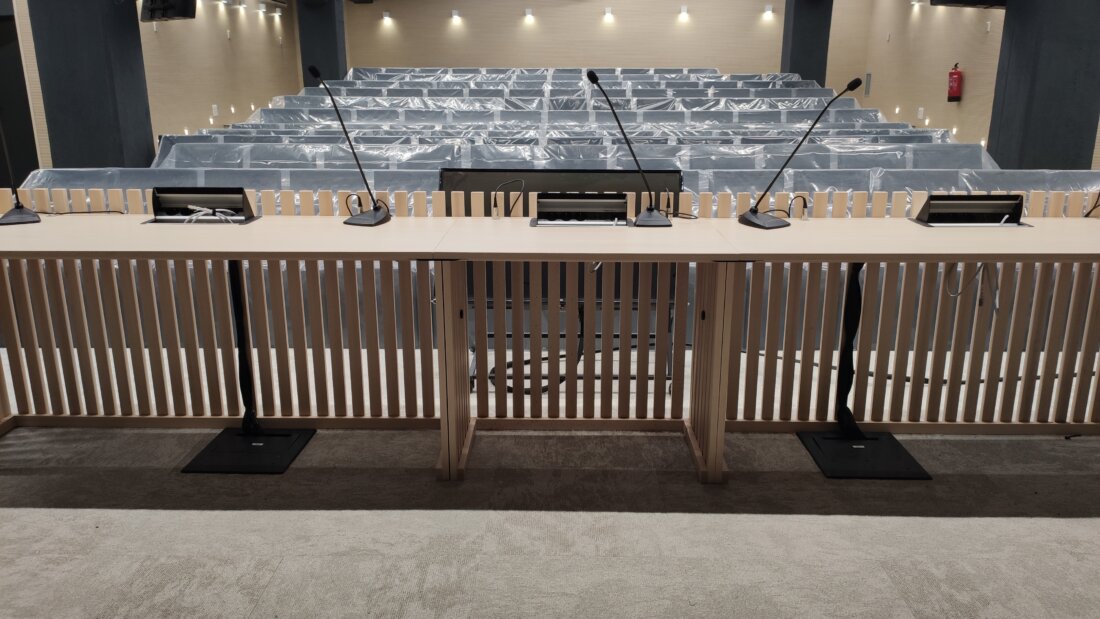 Datos Media has carried out the installation of audiovisual equipment in the auditorium of the Carlos III University Campus located in Puerta de Toledo (Madrid).
It is a Hall for face-to-face and online teaching ready to broadcast live content by streaming, as well as to hold congresses, seminars and conferences.
At the request of our customer Datos Media, CUBOID INS boxes (REF. PTRS1089) with the necessary network connections (RJ-45) and audio were designed and manufactured to measure, to be embedded in the floor of the stage under the presidential table: microphone (XLR) and line (RCA). These boxes are completely integrated into the floor with a double lid to avoid gaps and with opening by means of a metal piece.
On the other hand, two other models of CUBOID INS boxes (REF. PTRS1100 and PTRS1446) were designed and manufactured for the installation of a lectern and mobile table on the same stage of the auditorium.
The auditorium is also prepared to deliver a signal to the press through a SAI IT splitter to cover up to 16 press media.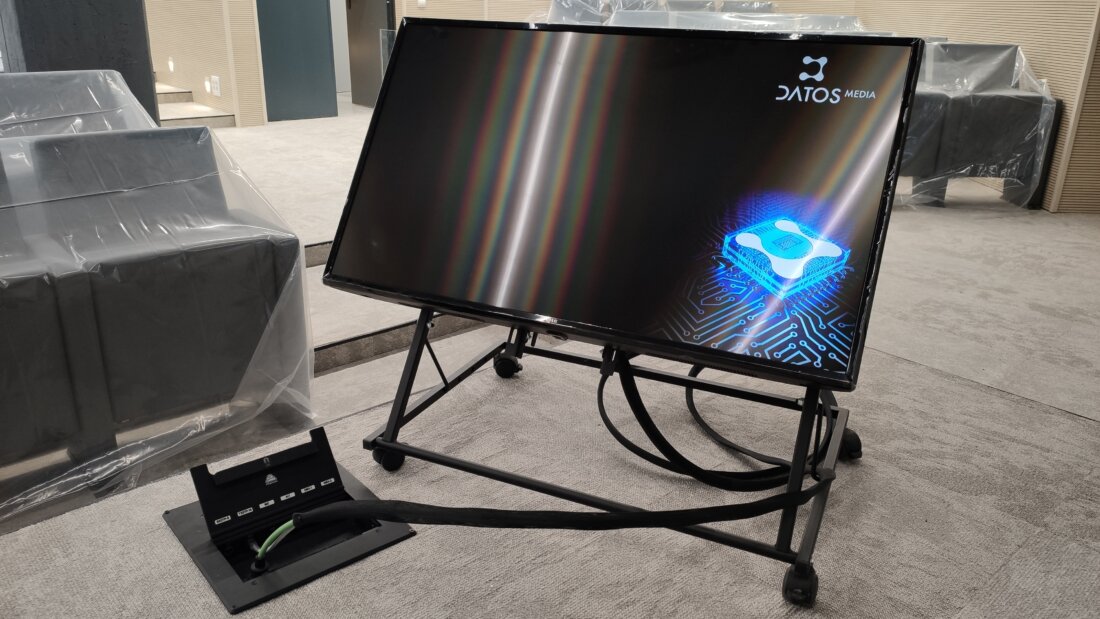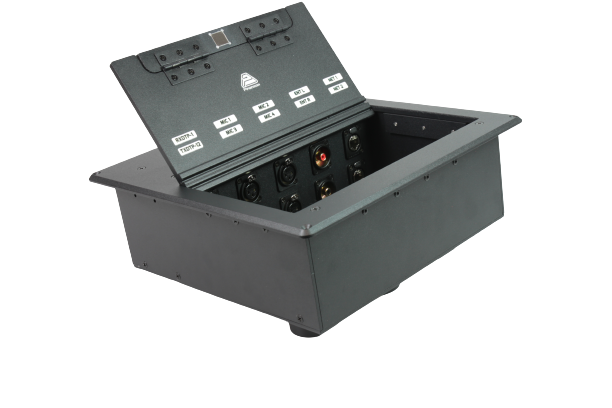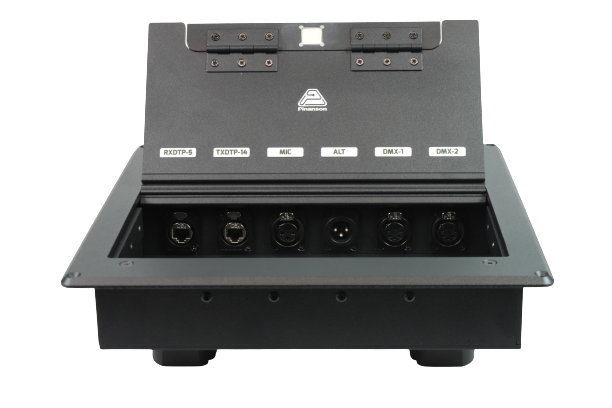 Photos: Courtesy of Angel Luis Panizo, Head of Engineering and Facilities at Datos Media
SUCCESS STORY: TAFALLA CITY HALL (NAVARRA, SPAIN)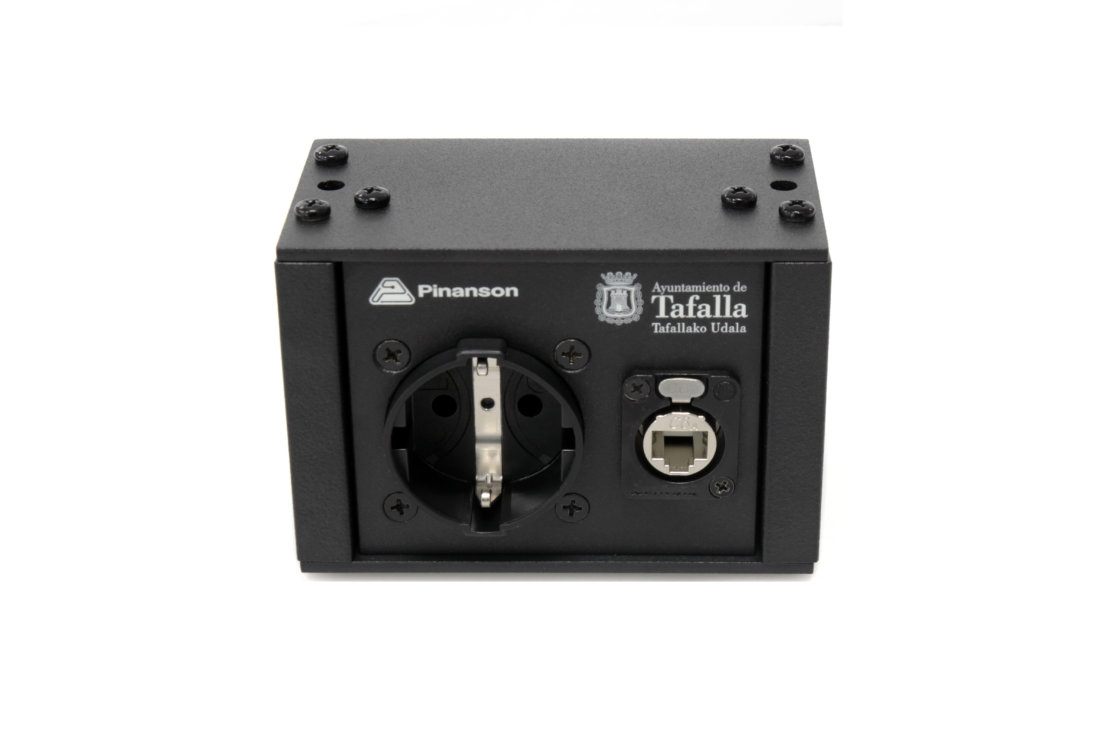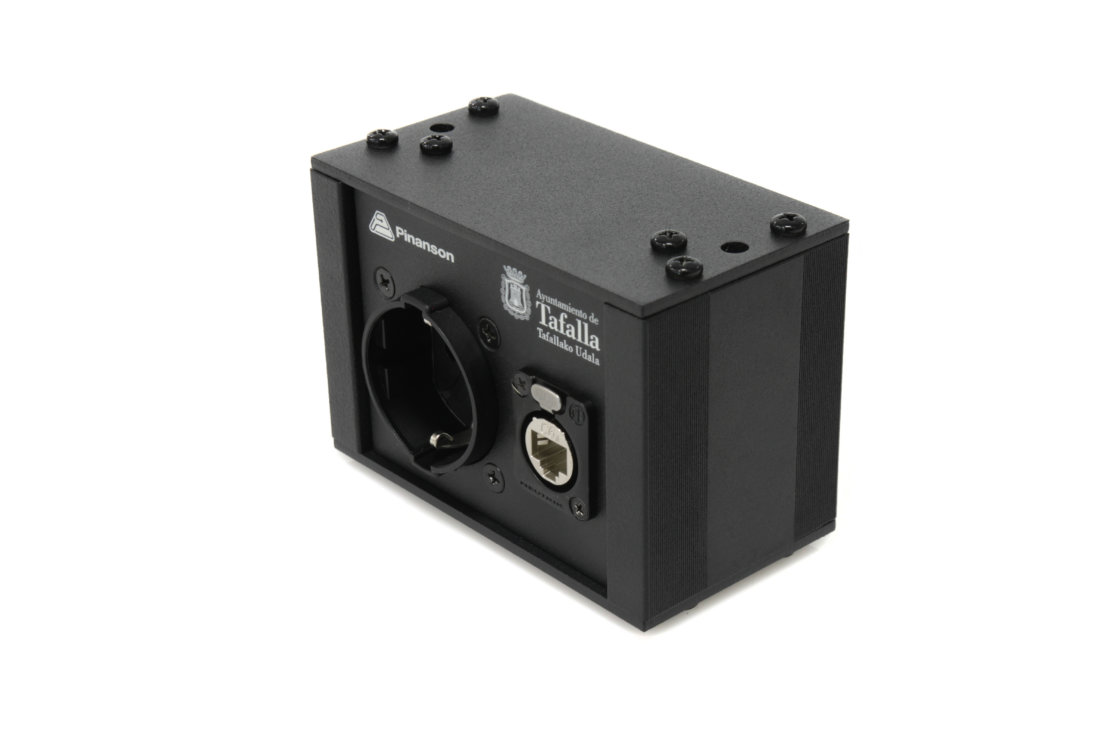 In any meeting room you need at least to have: a power connection and a network connection in each position. Therefore, it is necessary to manufacture a box of reduced dimensions that does not occupy more than necessary.
Thanks to our client Elison Servicios Audiovisuales, we provided custom-made boxes for the municipal corporation of the City Council of Tafalla in Navarra: "We have known their products for years and they offer us a guarantee and personalized solutions for each project", comments Eduardo González, Responsible Commercial at Elison.
These boxes, prepared to be installed under the table, were made to measure with the minimum dimensions to contain a Shucko power connector and an RJ45 CAT6 connector, also including the city council logo and a RAL 9001 black paint finish according to preferences of the client.
"We count on Pínanson for any project that comes our way because of the customized solutions they are capable of offering", concludes Eduardo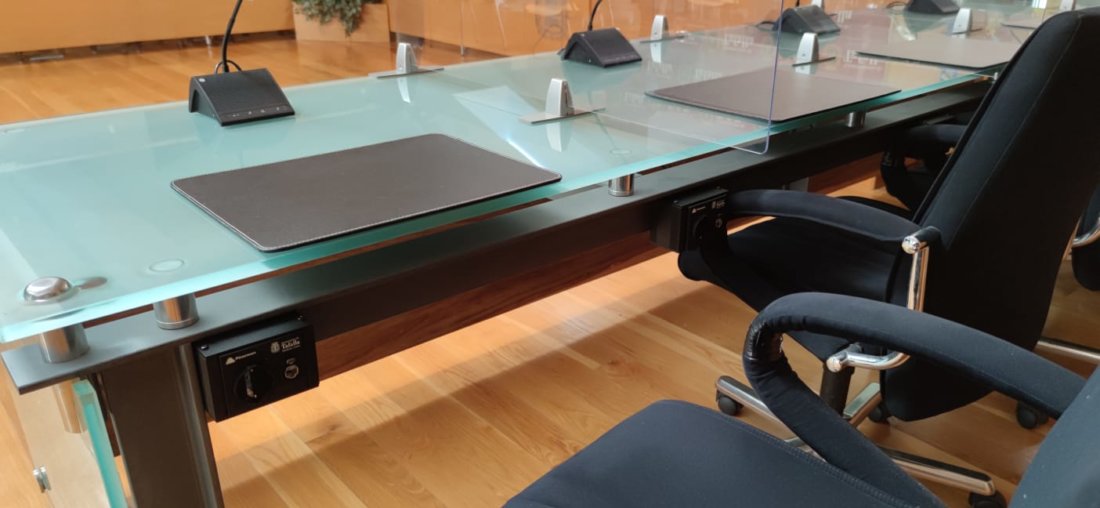 Photo: Courtesy of Eduardo González
SUCCESS STORY: INSTITUTE OF EDUCATION DOHA (QATAR)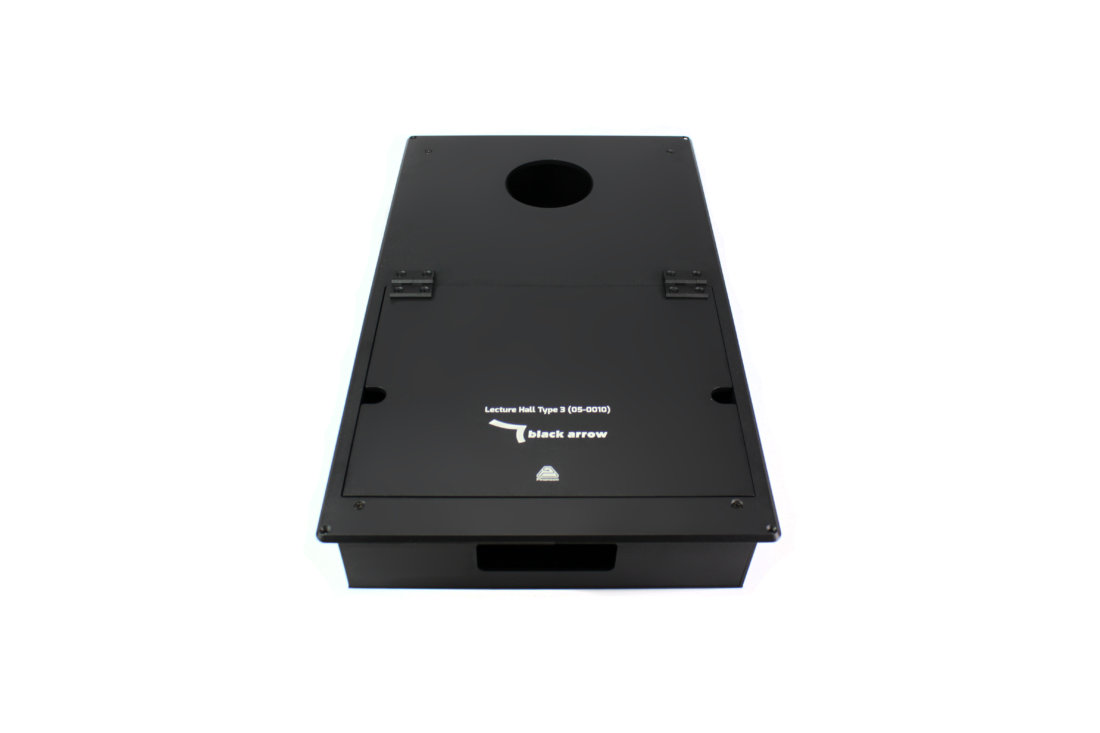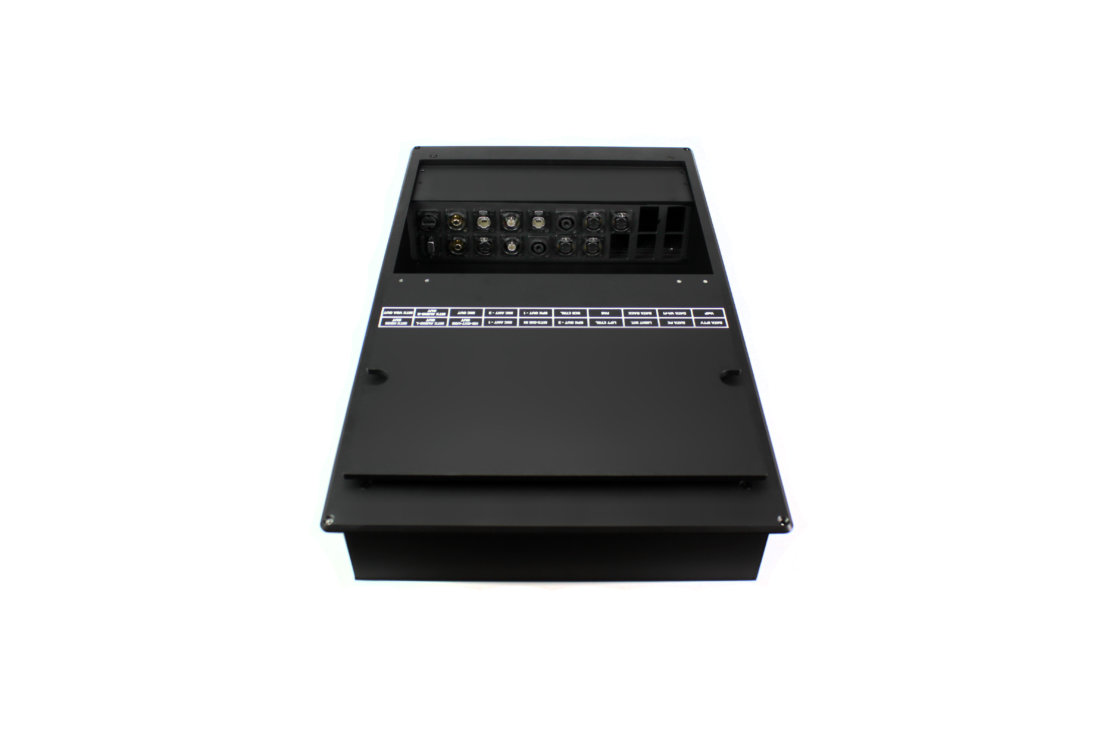 Within the range of AV boxes to be integrated on the floor we have the CUBOID and CUBOID INS.
The difference between one and the other model is that one box is insertable in the ground (and can be stepped on directly) and the other is housed in the pavement and is covered by a raised floor.
The two models of boxes were designed for an educational center in Qatar. Its interior was prepared for the transmission of multimedia, data, audio, video and speaker signals. A fairly complete set of signals to cover both present and future needs.
The boxes were requested by Mohit Sagar – Commissioning Engineer at Black Arrow (Doha, Qatar) – to be custom designed and manufactured.
The design of the Cuboid INS box was special due to its application: the connection of the equipment is carried out vertically in the area of ​​the cover, in this way the signals of a mobile equipment rack are connected, being able to disconnect when it is necessary to move the rack.
On the main advantages of the boxes manufactured by Pínanson, Mohit highlights:
It is a 100% customized product, something that was necessary since they had a certain height to house the boxes.
The good quality of the boxes and the identifying serigraphy of connectors and locations.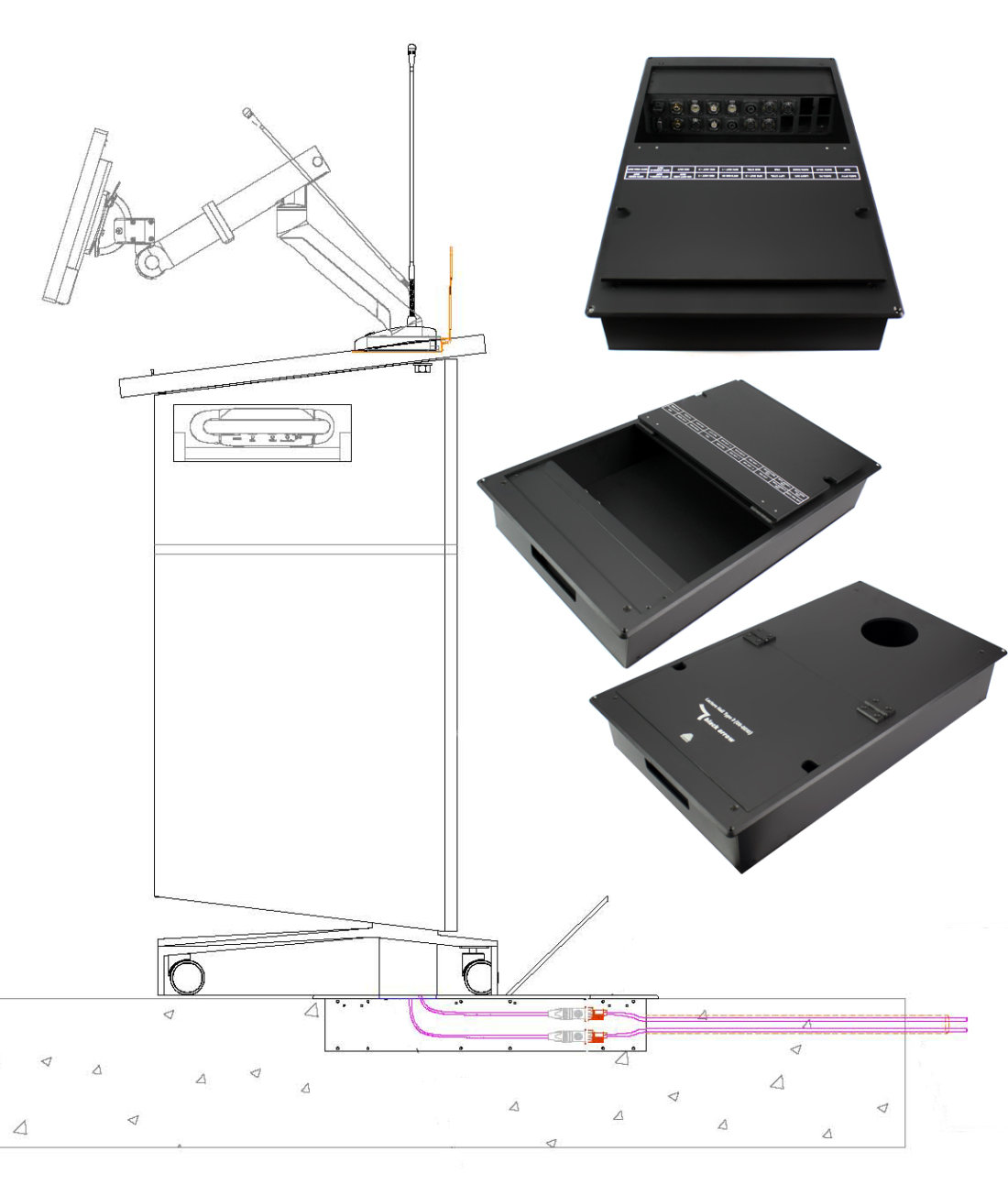 Drawing: Courtesy of Mohit Sagar
SUCCESS STORY: BANKINTER BRANCHES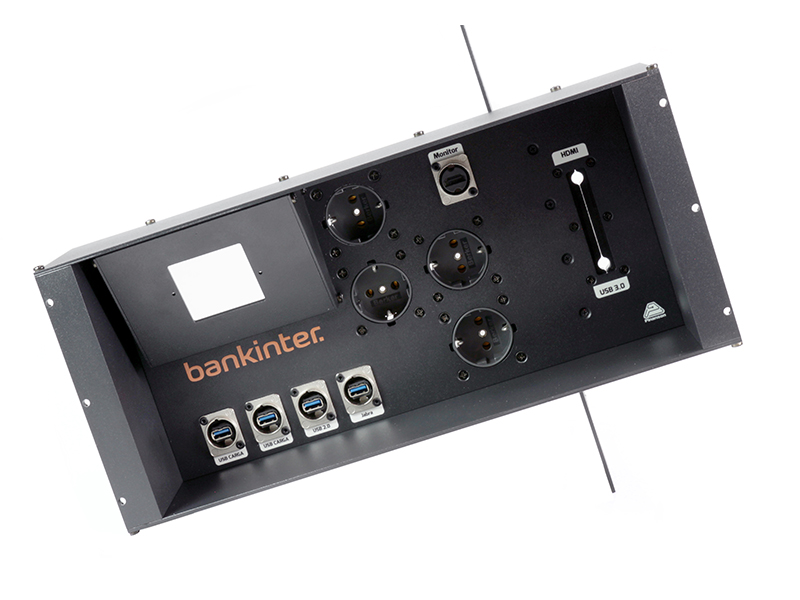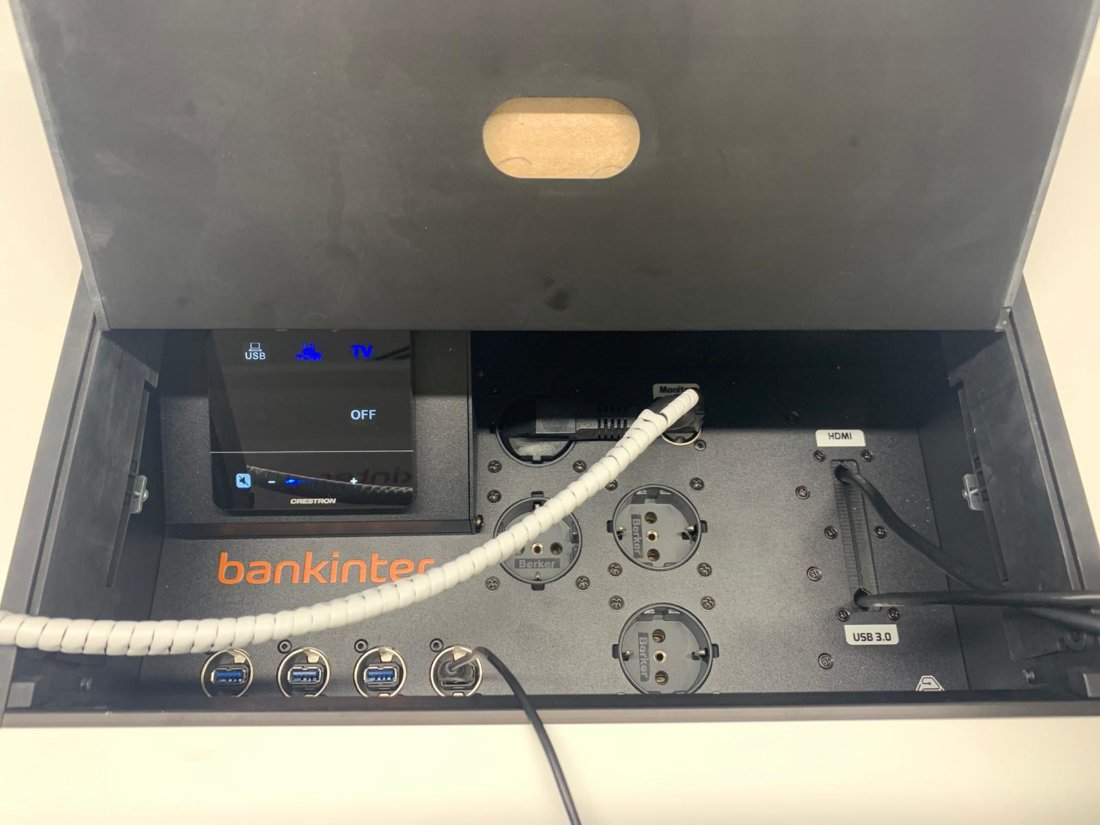 Photo: Courtesy PInanson / Javier Gonzalez
Audiovisual rooms in bank branches are becoming increasingly important and, therefore, the connections that make possible the transmission of audio, video and data signals.
Pentatel trusted in our ability to manufacture a product that was 100% adapted to the needs of their project: a series of A/V boxes for various branches of the Bankinter entity.
In this case, Javier Gonzalez Presales Manager at Pentatel Communications, asked us to design a box that could be housed on a platform included in the room table. This box with special dimensions contained several USB connectors, Schukos and the accesses prepared for the devices to be integrated by the customer.
"We believe that being a custom-designed box meets the needs of my customer, mainly in aesthetic aspects and in line with the rest of the furniture and other architectural elements in the room"
Javier comments on the value of tailor-made manufacturing of his box.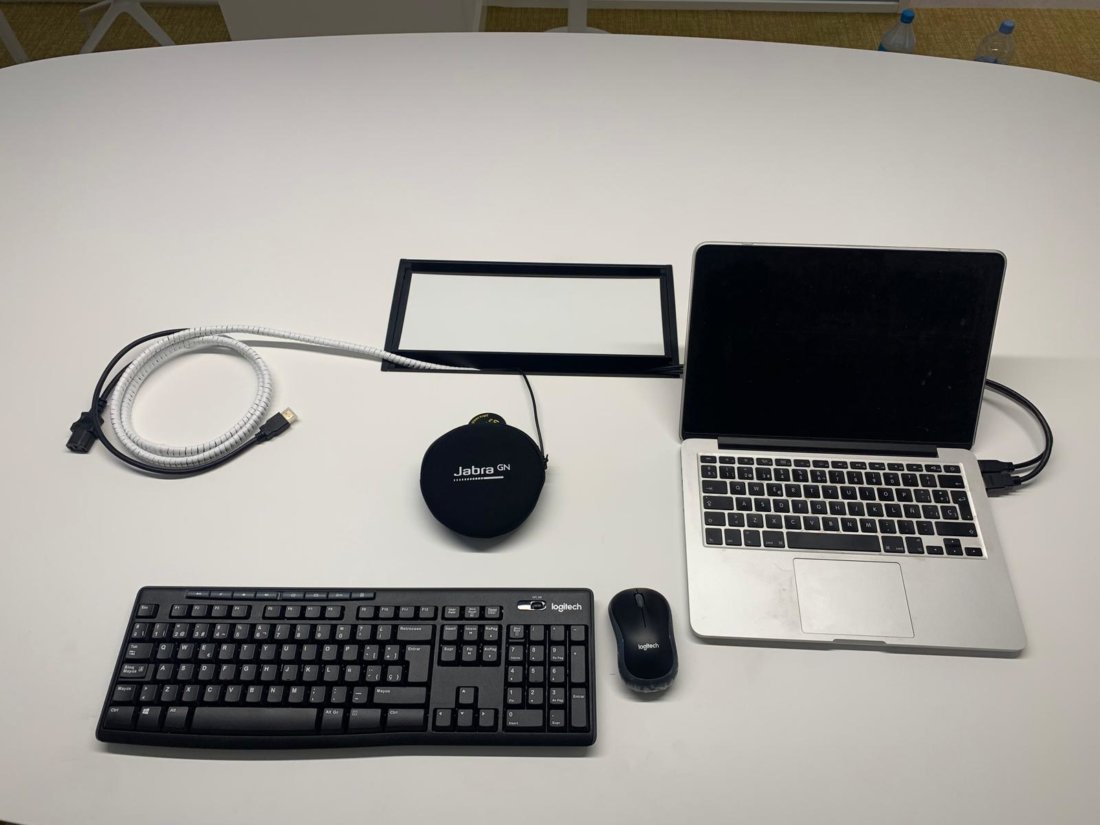 Photo: Courtesy Javier González
SUCCESS STORY: MEZQUITA-CATEDRAL CORDOBA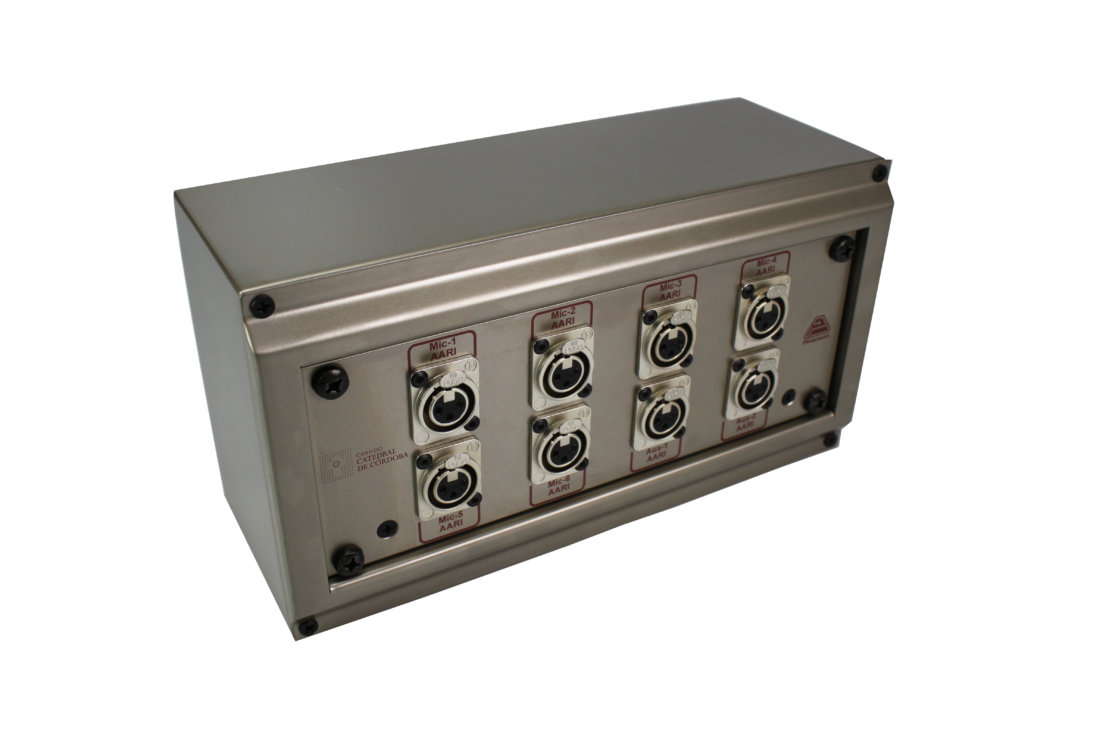 Within the Monumental Mezquita-Catedral of Cordoba, history and art coexist with technology and the world of connections. Pinanson manufactured in a customized way with a special color, worthy of a historical monument, a series of audiovisual boxes with microphone connections and network signal to be placed on the surface inside an audiovisual room.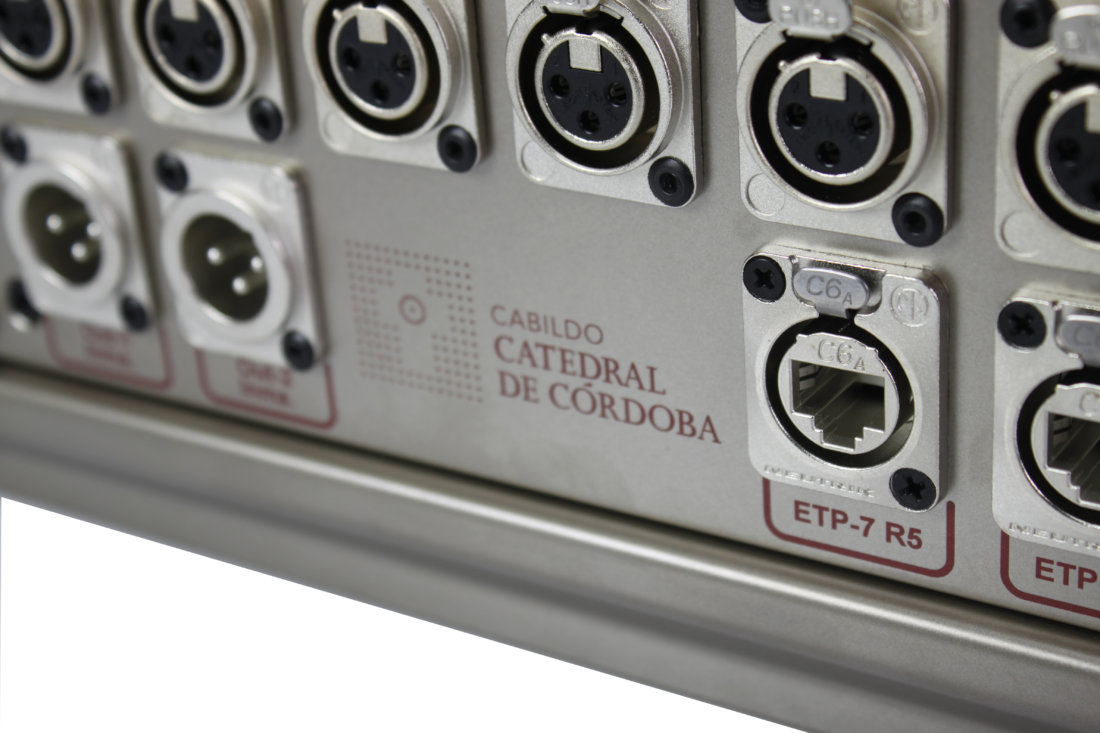 SUCCESS STORY: INDITEX AUDITORIUM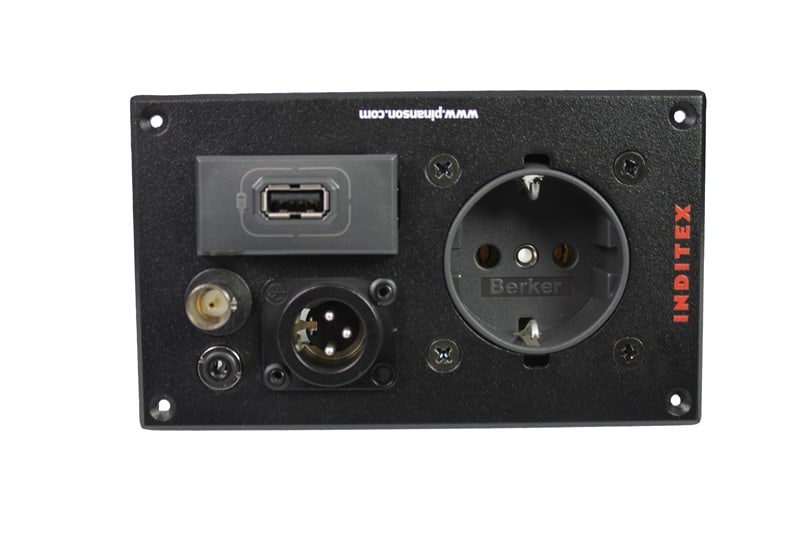 SUCCESS STORY: AV BOXES IN THE CARNIVAL VISTA CRUISE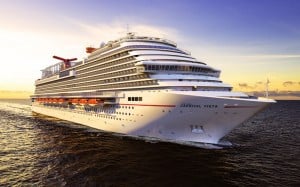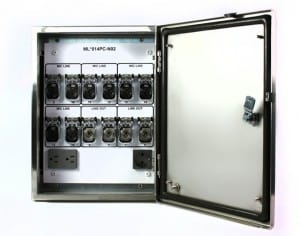 Last year the great Carnival Vista cruise left port for the first time.
The needs of audiovisual connections of a ship are similar than any other installation needs are unless you have to consider something: a humid and saline environment is a bad friend of electrical connections.
In order to avoid as much as possible problems in the AV installation due to sea-environment, the boat system integrators decided to install the most of the connection panels in AV boxes made by a IP66 protection and stainless steel material and connectors protected by lid.
CAJA 1-WEBFor the less critical places in the cruise, custom made Wall Plates and TBAT floor boxes were installed. Our client ask us a specific dimensions, colour and print of each box.
Pinanson manufactured all of these custom made products in a record time and by the hand of Seastema the specialist in the integration systems of large ships company.
SUCCESS STORY: AV BOXES FOR NEW BBVA BANK HEADQUARTER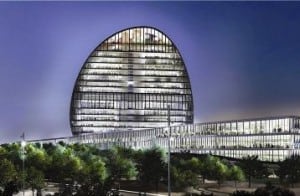 The up-to-date and modern headquarter of BBVA in Madrid (Spain) is composed of several buildings called: Oceania, Asia, Africa, Europe, Antarctica, South America and North America. It has an Auditorium (in Antarctica building) and Press Room (in main, building La Vela) with capacity for 400 and 100 people respectively. These rooms make the AV connections through AV Pinanson boxes as Wall Boxes and Wall Plates designed and manufactured under request.
Also Pinanson manufactured the PTR2450ED2 Wall Plate for table and to couple the Bosch DCN-FCS controller, under request.
SUCCESS STORY: AT SPANISH PARLIAMENT "SALA CALATRAVA"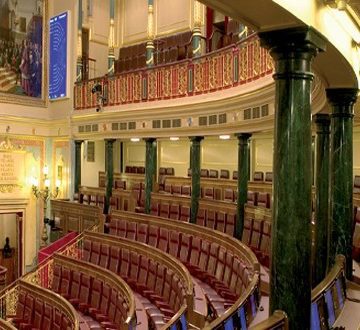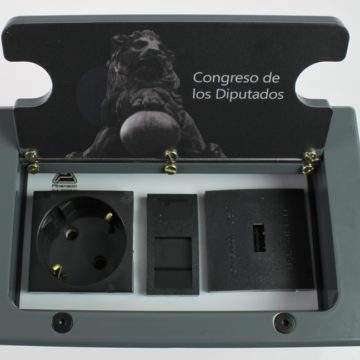 Pinanson in the audiovisual systems implementation at la "Sala Calatrava". The project aims to reform Olozaga and Calatrava rooms and its transformation into a new commission room on the Parliament, whose scope covers the Digital Conference Management System, Voting and Simultaneous Interpretation, Video Subsystem, Audio Subsystem, Audiovisual Control Subsystem and Broadcast, Evacuation, Lighting and Power Line infrastructures. The solution proposed and implemented by Auditel is designed under the premise of compatibility, scalability, redundancy, efficiency in the maintenance stage and open systems, providing interesting functional advantages for the Spanish Parliament.
SUCCESS STORY: AT VICENTE CALDERON STADIUM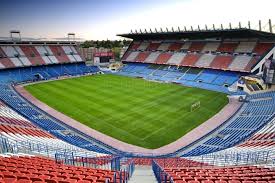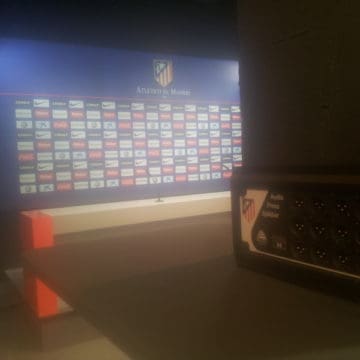 Pinanson at Atletico de Madrid press conferences. The media will get their audio signal "problem free" through Pinanson Passive Audio Press Splitters, at Vicente Calderon stadium. The splitters were customized with the logo of the Madrid football team.
SUCCESS STORY: ZARAGOZA JUSTICE CITY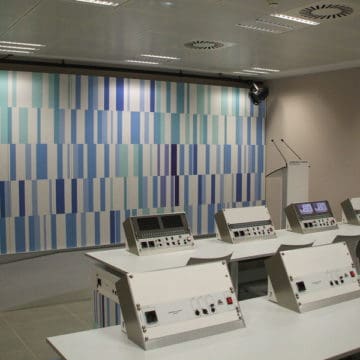 Zaragoza Justice city equips press points with Pinanson splitters. One of the supplied models is a distributor for Network on Cat6, isolated Audio on XLRM, Video on BNC and headphones control for 2 press points. Designed and manufactured in a Rack mount box with customized white vinyl screen.

SUCCESS STORY: A/V BOXES FOR HOSPITALS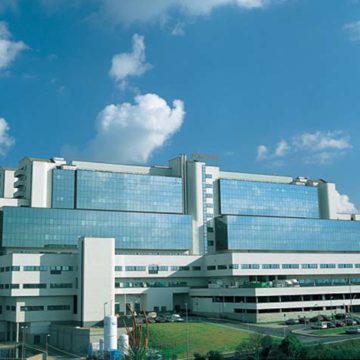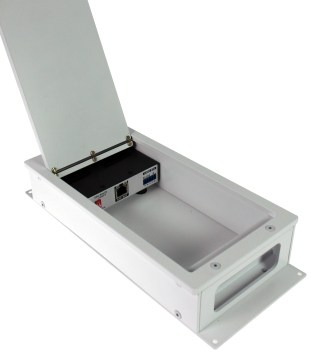 New audiovisual box design in hospital operating rooms. Based on the style of the audiovisual Cuboid box, Pínanson has designed a new model with the capacity to accommodate safely and reliably, the audiovisual equipment to be installed in the new hospital operating rooms that allows broadcasting the operations. You can see different versions of this new model in the Hospital Virgen Macarena in Seville, Asturias University Hospital, Hospital Virgen del Rocío de Sevilla, Hospital Virgen Arrixaca in Murcia, Hospital La Paz in Madrid and at the University Hospital in Santiago de Compostela.
SUCCESS STORY: PINANSON IN THE REMODELLED AGENCY EFE IN MADRID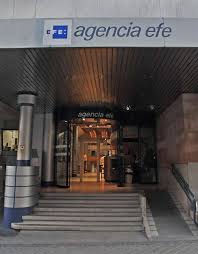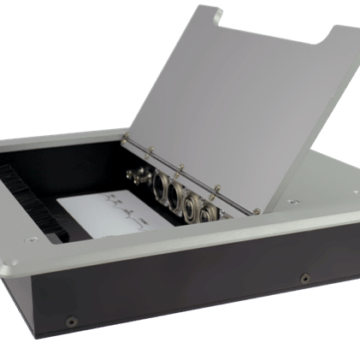 Pinanson A/V boxes are installed in the remodelled agency EFE in Madrid. The new agency located in Madrid, has different distribution A/V points that have been integrated in the floor. For the installation Pinanson Cuboid INS boxes were chosen for its sturdiness, ease of wiring and integration into the design of each room. The different boxes include BNC, XLR, HDMI, Cat6 and Powercon connectors.
SUCCESS STORY: PINANSON AT MUTUA MADRILEÑA
Pinanson made the audiovisual boxes for different locations of the conference rooms of Mutua Madrileña.
CUBOID BOX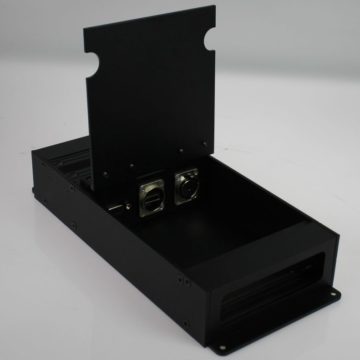 The Cuboid Boxes are designed and manufactured by Pinanson allowing you to install them under the floor or hanging them from the wall, in a way that the connection is done in parallel to the surface, saving on the space needed for the turn of the cable. The connection system is very simple, thanks to the spaciousness of the panels. The fixed wiring is done with cable glands in the back part and the front connections from a front access window. The result is a very really customised piece of equipment. Cuboid Box
UNDER TABLE BOX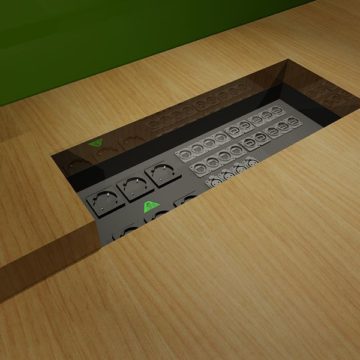 The Under Table Box, is designed and manufactured by our engineers, they are boxes for an under table installation, in such a way that it can be integrated into the table top by using the same material as the table, this will enable you to hide the box when it is not in use. These functions do not impede with our equipment, as they are totally adjustable and easy to install. Under Table Box
CUBOID INS BOX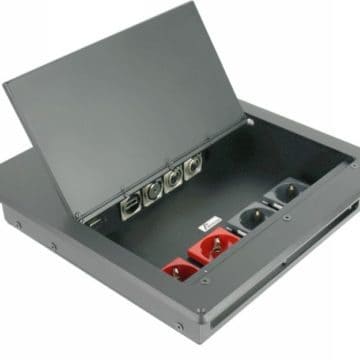 The Cuboid INS Boxes from Pinanson are boxes for fitting to the floor and constructed following the clients specifications by our engineers. The dimensions of the box will depend on the number and class of the connectors. Cuboid Ins Box